On Saturday 21 November we did an off-the-beaten-track tour into the heart of the vibrant East End, especially Brick Lane and surroundings, to explore the past and present of the capital's cultural and creative hub. Although it was very very cold, we enjoyed a fine street art & graffiti tour with an active artist. Doing that, we gained some really good insight into the local art scene and now know where to look for hidden art.
This was just another highlight of the day. Because in the morning we strolled along Portobello Road in Notting Hill and were delighted by the variety of goods and from the stands of the bustling street market. Do you know Julia Roberts of the same movie? We were lucky to meet her in the famous Notting Hill Book Shop. Unfortunately, Hugh Grant was not there.
So stay tuned for more news to come very soon…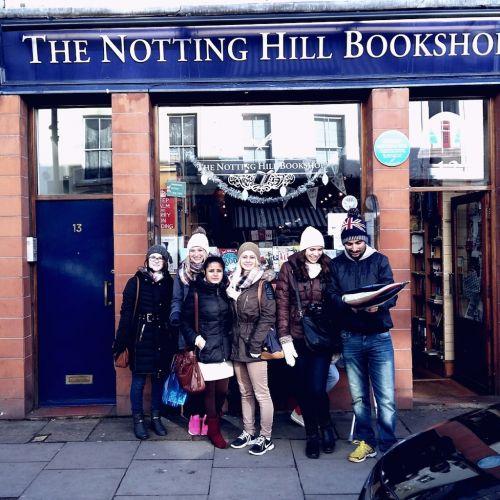 Ladies and Gentlemen – a tough week at the ECBM college is over and we can tell you one thing: all students' heads were giving off smoke. But it was worth it: They've learned many interesting things, e.g. about London as a business location and British Business Culture. Apart from that they gained some insights into British modern economy as well as what makes an excellent customer service. Improving their telephoning skills and communication at work was another focus of this preparation course at college. One other highlight of this course was certainly the city tour, which was guided by Ron, one of the charming teachers at ECBM: Here the students got some special insights into the financial district of London.
Then on Friday last week all students had to take part in an exam and had to show what they'd learned the days before. As all students were well prepared for it, we are pretty sure they did a really good job though publishing of the results is still due. In the afternoon we celebrated the farewell party with Sarah, the head of the ECBM College.
Today all students started their internships at various companies, ranging from fitness to travel management. Let's keep all fingers crossed for our students they are having a good start today.
Take care and all the best from London.
Gerald Treutz
Being very lucky and not hit by the strike of a famous German airline, the students as well as the teachers arrived safe and sound at London Heathrow on Sunday morning. Having grabbed all our luggage, it took us a while to get all the organisational things in connection with the Oyster Card (public transport) getting sorted.
After we accomplished that mission, we used the incredibly branched underground to get to our host families and "checked in". As luckily nobody fell into the gap ("Please mind the gap!"), we met in the early afternoon to explore London on foot: Doing it this way, we got an incredible first impression of this stunning and unbelievably cosmopolitan city! Some people might even call it: THE city!
From the Tower of London, over Tower Bridge and walking along river Thames to London Bridge: a great experience and good first glimpse of this mega city.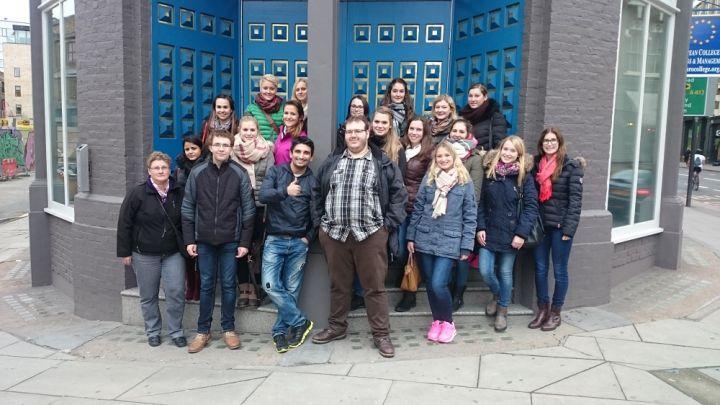 Yesterday the students had their first day at college. Having given a quick introduction of themselves, they learned many new and interesting things about "Business London". Part of that was a group work with a short presentation of the results found out. Though being pretty challenging for some of the students, the learning effect of that is tremendous.
So stay tuned for further news to come… All the best from London.
Gerald Treutz
Preparation course in Straubing – To moodle or not to moodle?
"Will I have an insurance when being abroad? Do I need an adapter? Am I allowed to use the bus with my OysterCard? What should I bring as a gift for my host family?" Pretty many questions were asked on Saturday 19th September and the more we were talking the more questions the students had. Luckily, the teachers organising the trip and Liz and Scott Whitehead, a couple from London, who were invited to give our students some insight information, were able to find answers to all questions.
The morning was packed with things dealing with our Moodle-online-preparation course: Talking about fears, hopes and expectations the students have in connection with their staying abroad. We checked on cultural awareness and tried to dispel stereotypes.
Having had some hard work in the morning, we went to a restaurant to have some decent pizza, so that we'll be able to work even harder in the afternoon…
In the afternoon the Whiteheads told the students in a funny and entertaining way of daily life in London. Furthermore the Whiteheads tested the students' knowledge by asking tricky questions: Do you know the largest European city? And it's not London, as far as I know. And who's living in 11 Downing Street (no, the number's spelled correctly)? And what's the favourite food of the English? We are pretty sure that you'll know that as well, even without attending the presentation.
Time flies! And the afternoon closed with some organisational things, which still had to be dealt with. All in all: The students and the teachers are really looking forward to going to London and having some great experience!
Gerald Treutz